Top Places in Morocco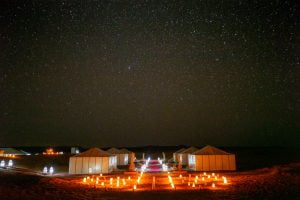 Morocco is a beautiful and diverse country with a rich history and culture. There are numerous incredible places to visit throughout the country. Here are some of the best places to visit in Morocco:
Marrakech: Known as the "Red City," Marrakech is a vibrant and bustling city with a captivating blend of old and new. The medina (old town) is a UNESCO World Heritage site with narrow winding streets, bustling souks (markets), and stunning historical architecture, including the famous Koutoubia Mosque.
Chefchaouen: This picturesque blue-painted town in the Rif Mountains is a favorite among travelers for its unique charm and relaxed atmosphere. It's a great place to wander around, shop for local handicrafts, and enjoy stunning mountain views.
Fes: One of the oldest and most fascinating imperial cities in Morocco, Fes is renowned for its well-preserved medieval architecture and the world's oldest university. Exploring the labyrinthine streets of the Fes medina is like stepping back in time.
Essaouira: A coastal gem, Essaouira is a laid-back town with a bohemian vibe. It offers beautiful beaches, a bustling port, and a well-preserved medina surrounded by impressive fortified walls.
Sahara Desert: No trip to Morocco would be complete without a visit to the vast Sahara Desert. You can embark on a camel trek and spend the night in a traditional Berber camp under the starry desert sky.
Atlas Mountains: The High Atlas Mountains offer breathtaking landscapes and a chance to experience the traditional Berber culture. Popular destinations in the Atlas Mountains include the Toubkal National Park and the Ourika Valley.
Casablanca: Morocco's largest city is famous for its modern architecture, including the impressive Hassan II Mosque, which boasts the tallest minaret in the world. Casablanca also offers a lively waterfront and cosmopolitan atmosphere.
Ait Ben Haddou: This ancient fortified village, located on the former caravan route between the Sahara and Marrakech, is a UNESCO World Heritage site and has been featured in several famous movies and TV shows.
Rabat: As the capital of Morocco, Rabat offers a mix of historical sites and modern attractions. Don't miss the Kasbah of the Udayas, the Mausoleum of Mohammed V, and the Chellah necropolis.
Ouarzazate: Known as the "Gateway to the Sahara," Ouarzazate is a desert town with a unique charm. It's also home to the impressive Aït Ben Haddou and serves as a popular filming location for many Hollywood movies.
Remember that this list only scratches the surface of the many incredible places Morocco has to offer. Each region has its own unique beauty and attractions, so make sure to plan your visit according to your interests and the time you have available.